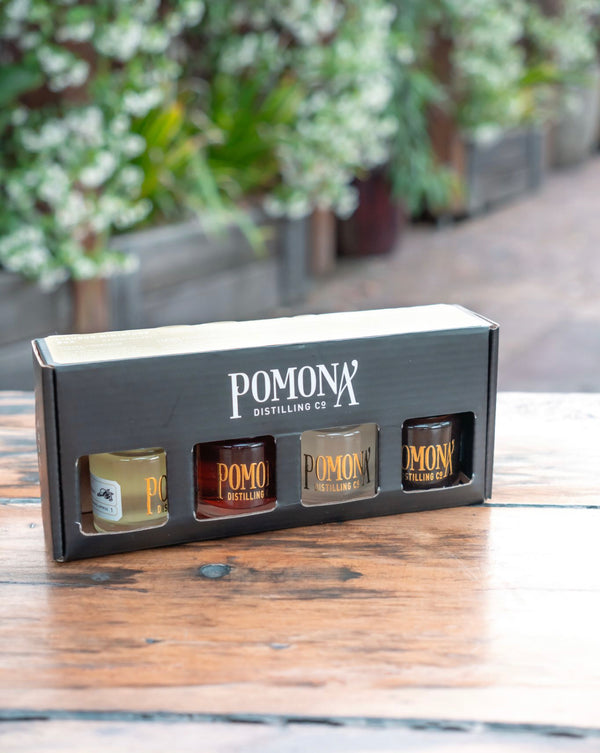 The Pomona Spirit
Our miniature liqueur gift set showcases four 50ml bottles of our signature liqueurs Hand crafted and bottled right here in the heart of the Sunshine Coast's hinterland. 
Delicious served with soda, ice cream or on ice and garnished with your favourites.
Pomona Limoncello
This is an intensely flavoured lemon liqueur as enjoyed along the Amalfi coast in Italy made from real lemon zest as they do in Sorrento.
Pomona Turkish Delight
This is an alcoholic liquid version of the popular sweet treat, delicious by itself or sensational on ice cream.
Pomona Coconut, Chilli & Ginger Liqueur
This incredible taste sensation is made from real ingredients that have been carefully blended to produce a liqueur which can be enjoyed sipped on ice or poured over ice-cream. A real treat however you prefer it.
Pomona Coffee Liqueur
Our coffee liqueur has very smooth finish that comes from a complete cold drip process. The result is a delicious, flavourful liqueur which can be enjoy as a shot, in a coffee or as a great cocktail such as the expresso martini.
Our coffee liqueur is made from an Arabica coffee bean grown in our neighboring town of Kin Kin.
Share The Pomona Spirit
50ml Bottles/1 STD Drinks. 20% Alc/Vol. Product of Pomona, Australia.
Dispatched from Pomona Distilling Co. in 2-5 business days or pickup at 18 Reserve Street, Pomona 4568 (Wed-Sun). Distilled and bottled by Pomona Distilling Co.